A312 TP310S PIPE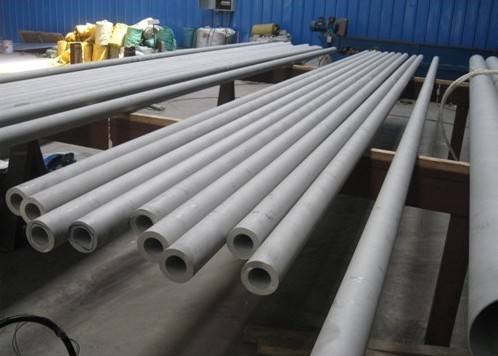 添加时间:2015-01-27 13:42:00
ASTM A312/A312M Standard Specification for Seamless and Welded Austenitic Stainless Steel Pipes.
This specification covers seamless, straight-seam welded, and heavily cold worked welded austenitic
stainless steel pipe intended for high-temperature and general corrosive service.
Grades TP304H, TP309H TP309HCb, TP310H, TP310HCb, TP316H, TP321H, and TP348H are
modifications of Grades TP304, TP309Cb, TP309S, TP310Cb, TP310S, TP316, TP321, TP347,
and TP348, and are intended for high-temperature service.
HNSS-STEEL supply ASTM A312 TP310S steel pipes comply with ASTM A312/A312M, ASTM A999/A999M.
TP310S(S31008) Chemical Composition
C 0.08%, Mn 2.00%, P 0.045%, S 0.03%, Si 1.00%, Cr 24.0-26.0%, Ni 19.0%-22.0%, Mo 0.75%
TP310S(S31008) Tensile Requirements
Tensile Strength, min 75ksi[515Mpa]
Yield Strength, min 30ksi [205Mpa]
Surface finish No.1 With heat treatment after hot rolling, pickling or equivalent.
Surface finish No.2B After cold rolling, carry out heat treatment and pickling or other equivalent processing.
And use cold rolling processing to make surface brightness.